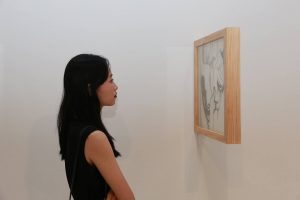 There is often a silver lining to a storm cloud, in the field of art this was the foundation of the first Vietnamese Art Academy in 1925 by the French occupiers. Since then, Vietnam has developed tremendously. The occupations by the French, then the Japanese, then the French, then the Americans, the Khmer Rouge incursions in the south and the Chinese in the north, have had an enormous influence on the development of the arts. If only because of the practical situation, Vietnamese could not go to museums. 
They were familiar with the developments, just as Mondrian thought he understood Cubism at the time until he saw the original works. The art in Vietnam developed from a mix of what they knew from Europe and what they knew from China. A very different way of visual expression is common there. To be compared with the different scripts: the alphabetic script builds up words from the sounds that are also the carriers of emotions. Logographic writing used in Asia is constructed with soundless strips that only take on meaning when the character is completed and it represents an 'idea'.
 Traditionally, in Europe a lot of work is done on canvas, in Vietnam people are used to other carriers such as silk and lacquer. Vietnamese artists don't have that age-old load of art to compete with and it shows. Their inspiration comes mainly from the internet, which shows the most recent developments. We see this development reflected in the work of Xuan Ha, a young artist from Da Nang. The last exhibition I saw of her was a sublime presentation of glass discarded on beaches. In the accompanying photo, however, we see how she presents her silk paintings.
She works with Le Thi Kieu Oanh, a young gallery owner from Da Nang who works from her Vietnam Cultural Exchange comp. the first Vietnamese 'Art for Children' gallery opened. Oanh recently gained practical experience in New York, for her graduation exhibition "Stay or Go!" she had also selected work by Ad Arma. He is currently active within the 'Barbares d'Esprit' project. Its manager, Christine Jannsen, asked Oanh if she knew a Vietnamese artist who worked abstractly. So Oanh sent Ha's work and an invitation followed to come to the Netherlands. 
The only problem is the cost, but her work is for sale at gallery Bax in Sneek and for projects one can contact Oanh (lenakori.vnce@gmail.com) . Who knows…